Lori Keller, Master Aesthetician, and owner of Vancouver Laser Skin Care Clinic, located in Downtown Camas, answers common questions about laser benefits.
Why are laser aesthetics so effective?
It reverses the signs of aging and sun damage with minimal-to-no downtime.
When you come in, we will do a complimentary consultation to create a program for your skin care needs. For example, if a client wants to reduce wrinkles, we do a combination therapy which includes laser, microneedling, and peels, depending on the severity of the wrinkles or sun damage.
What are common myths and misconceptions about aesthetic laser treatments?
"Does it hurt?" is the most common question. The answer is sometimes there is none to minimum pain level, depending on treatment being performed.
Another common question is "does it work?" The answer is yes — we have lasers that correct and ultrasound to lift and tighten the skin without surgery.
Going on the Internet and seeing mistakes being done by people who are unqualified or inexperienced. I have more than 30 years of experience.
What kind of equipment do you have?
The Cutera XEO platform is the laser we use, which I've been using for 20 years, and I'm happy with the results this awesome technology offers.
---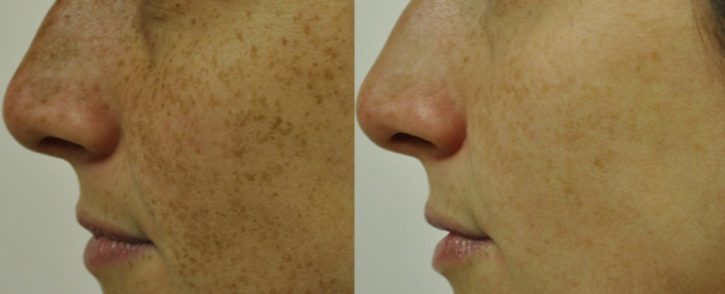 BEFORE/AFTER: Limelight treatment for brown spots and sun damage.
---
What makes our treatments a good Christmas gift?
Start the New Year with renewed self-confidence! You can see the results pretty quickly, depending on skin type. We feel that lasers offer great results in skin rejuvenation. Bring in the New Year with your best face forward. It's about giving the gift of confidence at any age — male or female, young, middle-aged or more mature all benefit from our services at Vancouver Laser Skin Care Clinic! Lasers produce fabulous results, as well as facials, microdermabrasion, chemical peels and ultrasounds for lifting and tightening without surgery.
We have special offers that are very affordable. It's giving the gift of beauty.
What services does Vancouver Laser Skin Care Clinic offer?
Intense Pulse Therapy (IPL), Chemical Peel Treatment, Microneedling, Face/Leg Vein Treatment, Botox/Fillers, and we offer Jane Iredale mineral makeup (makeovers), and medical level skins care products that perform!